A little late with the info, but nonetheless it's true – Neotek will be performing a very special gig at the classic underground venue Barbue. Barbue was known through the 80s and very early 90s as the place to enjoy concerts with Front Line Assembly, KMFDM, My Life with the Thrill Kill Kult, A Split Second, Borghesia, Leaether Strip and countless others.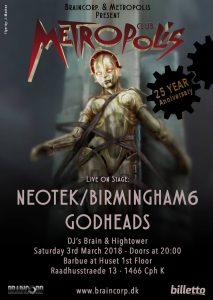 Barbue was closed down in 1994, but later re-opened as a jazz venue. They open their doors to allow the famous club Metropolis – the host of many of these aforementioned concerts – to celebrate their 25th anniversary on Saturday March 3rd.
When Metropolis was launched in 1993, it was with performances by Godheads and Birmingham 6. Club Metropolis Founders, Morten "High Tower" and Brian "DJ Brain" wanted to mark the anniversary by having the same line-up, and asked us if we wanted to extend our Birmingham 6 set in addition to also playing a Neotek set. Of course we said yes, and on top of this we even dug up a couple of Good Courage tracks that we will also be playing – since Good Courage was our main act back in those days.
But, wait! There's more! Co-founding member, Jens, has decided to leave Neotek to pursue other music projects. Since this will be our last concert together, we will do our very best to make it a memorable event! We may even pull up a very old track from the PTZ days (we're talking 1991-material here!).